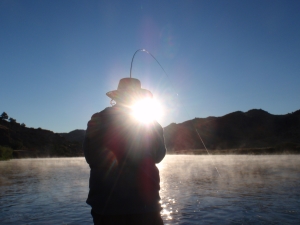 "Learn How To Fish Like A Guide Live Like a Client" School – April 25-30
Hemingway thought if he could get one true sentence out the rest would follow. Here is ours, "Fish like a guide but live like a client."
Healing Waters Lodge and Lilly & Kemph Outfitters is open for business and our Fish Like A Guide Schools will be starting in April 25 – 30th. The school is designed on improving every angler's skill level by providing a solid foundation on stream entomology, improving angling technique (a variety of casts and mends), reading water and the three ways to bamboozle a trout with a nymph, dry fly and a streamer. The equivalent would be leaving baseball's spring training with a 98 mph fastball, a Sandy Koufax curve and a change-up that can stop traffic.
There is class time at Healing Waters Lodge but the real school is on the water. The Madison, Big Hole and Beaverhead are all classrooms along with the more intimate settings of the Ruby and Mill Creek. This is the time of year you can expect to see the stately mayfly – the blue winged olive. You can also witness the first stonefly of the year – Skwalas.
At the end of the day, Healing Waters Lodge is here to provide comfort, fine food and any necessary solace for our anglers.
Our goal is to make you more knowledgeable and more effective on the water. From Bobby Jones to Jack Nicklaus and Tiger Woods each benefited from golf instructors. We can do the same for anglers. You will become a leaner meaner fishing machine.