Montana fly fishing trips are popular because they can be challenging, rewarding, and entertaining. If you have never been fly fishing, however, there are a few things you should know. Continue reading if you would like an overview of what you need to know about your guided fly fishing expedition.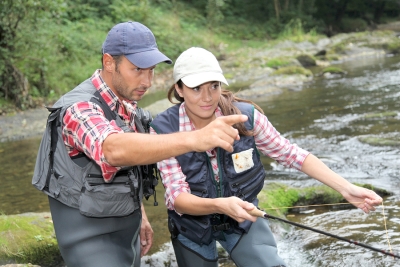 Pack Appropriately
The best way to ensure that you spend your fly fishing trip counting down the seconds until you return to the fly fishing lodge is to pack inadequately. For your own benefit and enjoyment, it is crucial to pack properly and make sure that you are comfortable throughout the fly fishing experience. It is typically a good idea to dress in layers and err on the side of caution; you can always take off your jacket, but you will be happy you brought it if it starts to rain. Keep in mind that the boat you are on may be traveling at speeds up to 40 or 50 miles per hour, which can always bring on a chill. You should also bring sunblock regardless of the temperature for emergencies. It is always wise to check the weather the day before so that you can plan your packing thoroughly.
Practice
Your guided fishing trip will also be a great deal more fun if you have a decent grasp on the sport of fly fishing. Even if you have been fishing for years you should practice for a while in the days leading up to the guided fishing trip. This will assist your muscle memory and allow you to feel comfortable and natural in wielding the fly fishing equipment. Practice at different times of day and on different days so that you can adjust to different wind patterns.
Communicate
You cannot become an expert fly fisherman before going on your first fly fishing trip. If you are a beginner, communicate this to your guide; these people are typically seasoned veterans of the sport and have a wealth of expertise to share with you. If you make the decision to take a Smith River fly fishing vacation, your guide can help you have the best time possible.