With the pristine open vistas, fresh air, and unspoiled feel, it's no wonder that people from across the country schedule Montana fly fishing trips during their vacations. Fly fishing can be a relaxing, meditative activity, especially when you get away from the noise and crowds of urban areas and stay at a remote fishing lodge. To get the most out of your fly fishing trip, follow the tips below.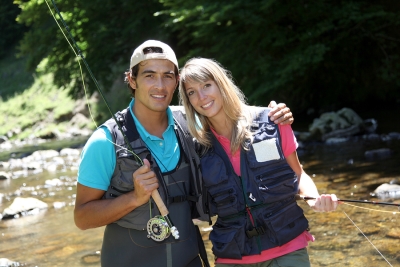 Invest in Proper Equipment
A good rod and reel, sturdy fishing line, and a variety of flies are essential, but there are a few more things you need to have in order to enjoy your trip. Essential fly fishing equipment includes waders to keep your legs dry, polarized sunglasses to prevent morning and evening glare from blinding you, and a hat of some type to keep your head warm and keep the sun out of your eyes. Insect repellent and sun screen are also very helpful.
Stay at a Comfortable Lodge
After a day wading in the gorgeous rivers of Montana to find the best angling, you'll want to relax. Book a stay at a comfortable lodge so that you can kick back and unwind when your fishing trip is done. Look for a place with extras such as a hot tub, exercise room, and an on-site kitchen with different dining options. Little details like this make all the difference when you are on vacation. Being able to get in a morning workout or take a soak in the hot tub after a long day out on the rivers can make your trip more relaxing and more memorable.
Schedule a Guided Fishing Trip
If this is only your first or second time fly fishing, or even if you are a seasoned veteran but have never visiting Montana before, you should schedule a guided fishing trip. Local fly fishing experts will take you to the best spots to cast, and make sure that you have a good time, whether you want to fish for perch, walleyes, rainbow trout, or northern pike.