During high seasons, it can be difficult to find a secluded spot for fly fishing. Word can travel quickly in fly fishing circles, and before you know it a once-remote bend in the river can become crowded. If you value the tranquility of fly fishing in a relatively remote location, you should consider private water fishing near Montana. Many avid fly fisherman find that this is the best way to enjoy their fly fishing vacations. Advantages of private water fishing include: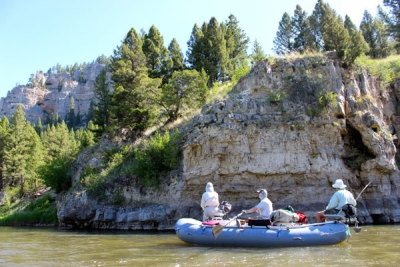 Seclusion and Solitude
The primary reason to book a private water fishing trip is to avoid crowds. Although most fly fishing aficionados are more than happy to share their experience with fellow fisherman, overcrowding can spoil the fun. First, too many people wading out into river waters can spook the fish, making them wary of biting your flies. Second, crowds can lead to overfishing, and in a crowded spot you're less likely to make a successful catch.
Improved Ecological Stewardship
Unfortunately, the public will sometimes abuse the privilege of access to public waters and riverbanks. At times, litter can be found on what would otherwise be the pristine banks of Montana's Smith, Madison, and Big Hole rivers. Often, private waters are much more pristine, because the landowners care about protecting their local environment, and only allow limited numbers of fly fishing trips on their property each season.
Better Catches
Most of the guests at a fishing lodge will tell you that their dream is to catch a very large fish, no matter what species they are angling for. In private waters, you may have an increased chance of catching particularly large specimens. Also, because private waters are only fished when the owner approves a trip, the fish that pass through these waters are far less likely to become spooked than fish in high-traffic public areas of rivers. With a knowledgeable fly fishing guide, a private water fishing trip could very well end up being your best fly fishing outing yet.