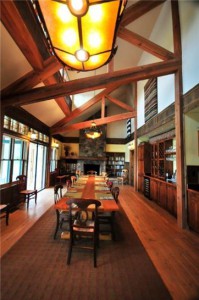 Below are examples of the creative menu that Chef Bennett is working on for breakfast and lunch this season at Healing Waters Lodge:
At breakfast, we offer fresh ground brewed coffee, teas, a variety of juices and freshly made fruit smoothies.  Hot steel cut oats, homemade granola and other cereals, yogurt, and fresh fruit are available.
Chef Bennett's Breakfast:  Breakfast Brushetta – grilled sourdough bread topped with fresh pesto, scrambled eggs, diced tomato, crumbled goat cheese, Balsamic Reduction and freshly torn basil.
Our guides pack along a lunch we have freshly made for you to enjoy on the water.  Sandwiches, salads, a side dish and dessert are available to you throughout your day.
Chef Bennett's Lunch:  Marinated Shrimp and grilled sweet corn salad with arugula, cucumber, diced watermelon, red onion, shaved parmesan cheese, and basil-strawberry vinaigrette.
We gladly accommodate your dietary preferences and restrictions.