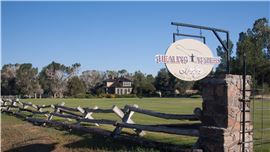 Healing Waters Lodge has the reputation for being a superior fly fishing lodge located in the beautiful Ruby valley in southwest Montana.
Easy access to blue ribbon trout streams, private water, clean, comfortable rooms, door to door guide service, gourmet cuisine, personalized laundry service, large outdoor hot tub, exercise room, casting pond; we have everything you need for an outstanding and memorable fly fishing vacation.
Mike Geary, 406-459-2030, is the man with a plan and waiting to hear from you.