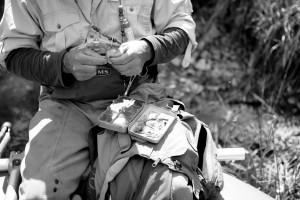 Many aspiring adventurers find that planning a trip is the hardest part. At Healing Waters Lodge, we'll gladly take care of all the details of your Montana fly fishing expedition.
The following are items you should bring to Montana regardless of the season:
Polar Fleece hat, wool cap and a wide-brimmed hat.
Polarized sunglasses.
Gloves or mittens.
Good rain gear.
A warm jacket even in July.
A pair of long underwear. These are essential in spring and fall
Socks. My feet are always cold. Polar fleece socks, wool socks, silk socks what ever it takes for warm feet.
Shorts or a swim suit.
Fly Fishing Gear
Fishing rod and reel
Flies
Extra line
Wading boots
Chest waders. Chest waders with a raincoat will keep you completely dry.
Bring a camera, binoculars, sun screen and insect repellent.
We have loaner equipment available for our guests at the Lodge or on the Smith.  Please contact Mike Geary at 406-459-2030 to inquire.
SMITH RIVER floats: Add the following list of items if you are floating the Smith River with us.
Two long and two short sleeved shirts.
One pair of dry shoes for around the camp.
Warm sleeping bag.
Bring a small pillow and towels.
A soft bag or duffel bag up to 12″ around or loosely packed so that it can be stuffed into our dry bags.
Day pack for gear you might need on the river.
Fishing gear. The most versatile rod you can in Montana is a 9ft. six weight fast action rod. If you'd like to bring more rods no problem.
Small flashlight.
2 heavy trash bags for wet clothes.
Polar fleece sweat shirt or wool sweater.
Why This Equipment Is Necessary:
You might ask, "Why would I need a warm jacket in July?" While it's true that July days are hot, the nights can be very cool. Here are a few reasons why we recommend the above equipment.
Staying Safe: It's our job to make sure you stay as safe as possible during your fly fishing trip. The above items will help you stay warm and dry and help protect you from sun damage and insect bites.
Maximizing Success: The better prepared you are, the greater chance you'll have of catching fish. We'll bring along a few spare items, but you're better off packing all the necessary gear yourself.
Having Fun: You should never forget to have fun during our outings—you're on vacation, after all. The above gear will help you stay as comfortable as possible so you can focus on enjoying the beautiful Montana experience.
Preparation and safety are key to having a successful fly fishing trip. If you have any questions about fly fishing gear or fly fishing in general, feel free to call Mike Geary at Healing Waters Lodge of Twin Bridges, Montana at (406) 459-2030.