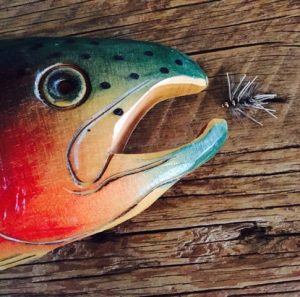 Healing Waters Lodge opens April 1st.  We enjoy kicking off the season with two fly fishing schools, April 14-19 and April 23-28.  The school is designed to improve every angler's skill level by providing a solid foundation on stream entomology, improving angling technique (a variety of casts and mends), reading water; and, three ways to bamboozle a trout with a nymph, dry fly and a streamer.  Class time is after breakfast at the Lodge, then off to the real schools the Madison, Big Hole and Beaverhead rivers with our guides.  This is the time of year you can expect to see the stately Mayfly – the Blue-Winged Olive, perhaps the first stonefly of the year – Skwalas.
Our fly fishing school package includes:  6 nights lodging, meals and 5 days of classroom and guided fly fishing on local waters and use of loaner equipment.  Our guest rooms have two queen-sized beds, private bathroom, wifi, patio with fantastic views.  Our cuisine is prepared fresh daily by our Chefs and include a hearty breakfast, stream-side lunches, appetizers in the evening followed by a fine dinner.  Beer and wine are complimentary with your meals.  We have an on-site fly shop equipped with loaner gear for our guests to use: rod, reels, waders, boots, walking staffs, and even rain jackets.
Mike Geary is available to take your call 24/7 at 406-459-2030.