Healing Waters Lodge
Orvis Endorsed Fly Fishing Lodge in Southwest Montana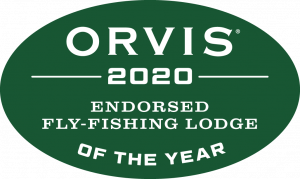 Healing Waters Lodge is an ORVIS endorsed fly-fishing lodge located in the heart of the Ruby Valley surrounded by the Tobacco Root, Ruby and Pioneer mountain ranges. The lodge is situated between the towns of Sheridan and Twin Bridges surrounded by cattle ranches, nestled among cotton wood trees, and offers stunning views in all directions.
We are privileged to have, easily the most experienced, knowledgeable and personable group of guides in Montana. Their primary goal is to provide you with the best opportunities, advice, and share techniques to help you catch and land the fish of your dreams. Our guides can cover the spectrum from the novice to the hardcore angler. Inevitably, their love and enthusiasm for Montana and the waters we fish will also rub off on you.
With more angling choices within easy driving distance than anyone else in Montana. You can float the larger rivers in southwest Montana such as the Beaverhead, Big Hole, Jefferson, and Madison. You can walk wade on smaller meadow streams like the Alder, Ruby, Boulder. We have exclusive access to private spring fed creeks and ponds.
After breakfast, our guides pick you up in front of your room and will offer recommendations for your fishing day. Our goal is that you are successful in your piscatorial pursuit and are enjoying your time on the water. Your guide will have refreshments, bottled water, a hearty lunch, and snacks available to you throughout the day.
Guests typically return to the lodge in time to enjoy a soak in the outdoor hot tub, shower, and relax on their private porch or perhaps, take a nap. Appetizers and refreshing drinks are followed by a lovely dinner.
Healing Waters Lodge is designed with the comfort of our guests in mind. Clean, comfortable and spacious rooms with two queen sized beds, private bathroom, and a porch with a view. All rooms are equipped with Wi-Fi and cellphone coverage. We offer door-to-door guide service, personalized laundry service, a large outdoor hot tub, and an exercise room. The original main lodge has a kitchen, pool table, Direct TV and sitting areas; telephone, fax and computer/printer for guest use. Our guests are encouraged to enjoy practicing their casting skills on our beautiful pond.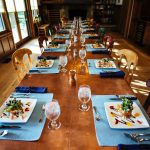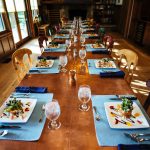 Our chefs proudly create gourmet menus that offer a variety of fresh, balanced and delicious meals. Begin each day with a hardy breakfast and then enjoy a healthy and satisfying lunch on the water with your guide. Refreshing drinks and appetizers are served in the sun porch followed by a gourmet dinner in the dining room overlooking the pond. Fresh herbs and produce from the lodge garden as well as from Ruby valley growers compliment our delicious food.
At Healing Waters Lodge, we love what we do, and introducing our guests to the beauty of southwest Montana gives us a great sense of joy. Don't hesitate to plan your fly fishing vacation any longer! With stunning scenery, an outstanding guide service, and comfortable lodging, the choice is easy.
Call Mike Geary today, at 406-459-2030, to learn more about our services.