Smith River Float Trip
Trip Planner Information
Please complete and submit the Questionnaire form. Thank you.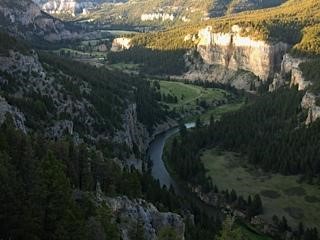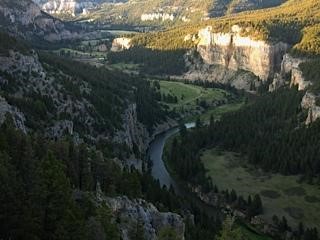 Dear Fellow Angler:
Thank you for choosing a Smith River float trip with Lewis & Clark Expeditions for your Montana fly-fishing vacation. Lewis & Clark Expeditions, owned and operated by Mike Geary (Montana Licensed Outfitter #1574 and is permitted by the US Forest Service) is the largest commercial outfitter on the Smith River with over 25 successful years of experience.  This pre-arrival information document is meant to provide you with more information about the float trip and to help answer any questions or concerns you may have. The last page of the document includes a Pre-Arrival Questionnaire for your float trip and will aid us in preparing for your arrival and trip down the Smith River.  Please email your questionnaire responses to hwlodgemt@gmail.com .
Getting Here:  Helena Regional Airport is the most convenient airport for our Smith River guests to use.  You should plan to arrive in Helena at least one day prior to your launch date and preferably stay the night of take-out.  We highly recommend the Sander's House Bed & Breakfast or the Great Northern Best Western Hotel, both are located within walking distance to downtown Helena restaurants and shops.
We can provide a large-sized dry-bag to use for your personal belongings (ie. clothes, sleeping bag, pillow, toiletries, etc.) during the float trip; and, door-to-door float trip shuttle service, meaning we pick you up the morning of your launch date and take you to Camp Baker put-in and on the last day of the float trip we will return you to your accommodations in Helena.  Guests typically return to Helena, shower, repack for their trip home, have dinner in downtown Helena, and fly home the following day.
Helena Regional Airport: http://helenaairport.com/
Sander's House Bed & Breakfast: http://sandersbb.com/
Great Northern Best Western: https://www.bestwestern.com/en_US/book/hotels-in-helena/best-western-premier-helena-great-northern-hotel/propertyCode.27075.html
Downtown Helena: https://downtownhelena.com/
Location:  The Smith River is located in central Montana. Launch is near White Sulphur Springs at Camp Baker and you float, fish, and camp northward for almost 59 river miles in 5 days and take out at Eden Bridge, near Ulm.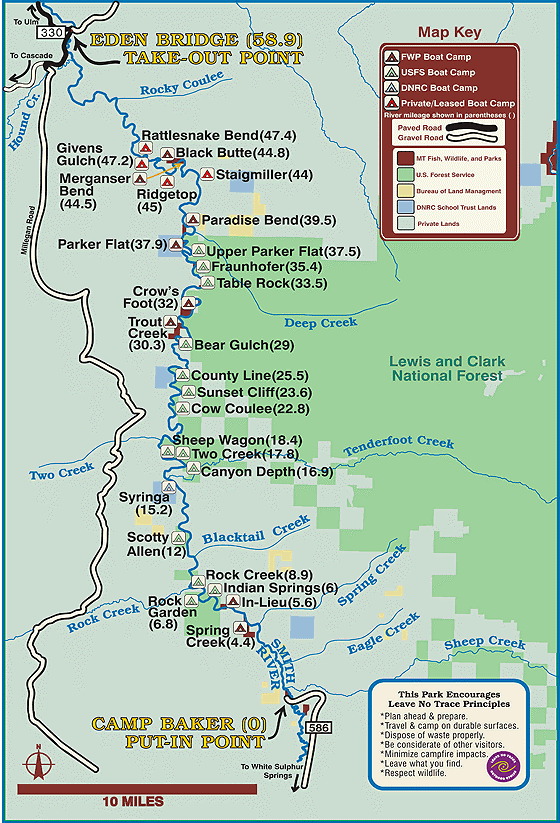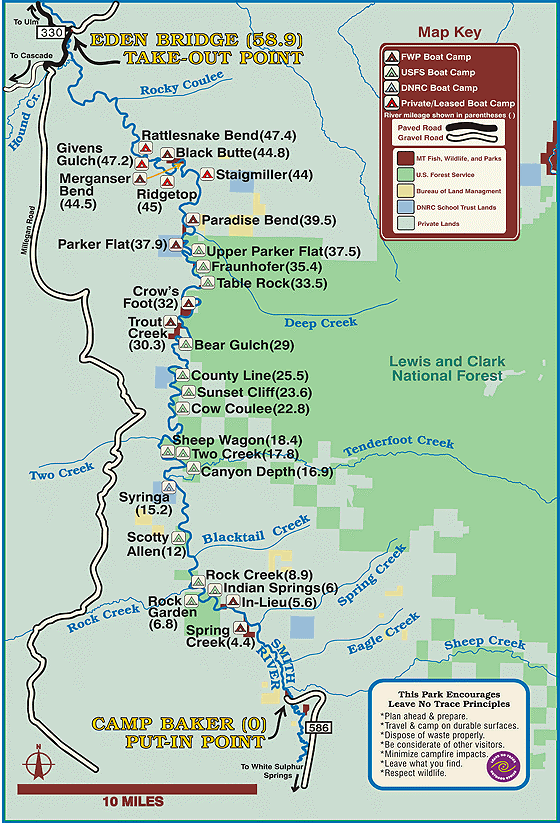 Our Guides cover 8-12 miles of fishing per day, while Gear-boat staff advance downstream to set up camp and prepare your tent, sleeping cot, and your dry bag are waiting for your arrival into camp each evening.
As you journey the Smith River Corridor, the canyon walls grow tall, cell service becomes non-existent, there is no electricity, so bring extra batteries for cameras and flashlights, and headlamps.  A recommended Gear List is included in this document.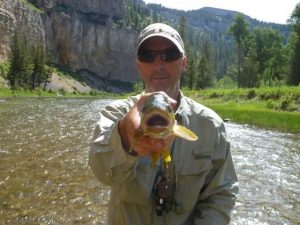 Fly Fishing Guides: Lewis & Clark Expeditions is privileged to have, easily the most experienced, knowledgeable and personable group of guides in Montana.  Their primary goal is to provide you with the best opportunities, advice, and share techniques to help you catch and land the fish of your dreams. Our guides can cover the spectrum from the novice to the hardcore angler. Inevitably, their love and enthusiasm for Montana and the waters we fish will also rub off on you.  We would appreciate you sharing your photos with us so that we can use them on our website, newsletters and promotional materials.
Fishing the Smith River
Is there a more scenic enticing place in the state of Montana to cast a fly line?  No.  Now, how to fish the Smith.
The most important thing is to have a good guide. We have good guides.  Guides are the short cut to success.  They know the Smith and the techniques you need to catch fish.
Do what the water dictates. This means several things but listen and watch the river.  If you don't see insects on the water; nor, do you see any feeding fish the odds are that dry fly fishing is not going to be productive.  This doesn't mean a large attractor or some sort of terrestrial like a grasshopper, ant or beetle imitation will not work but it hints at that possibility of another approach.  Be open to nymph fishing and casting streamers.  The river is saying, "The trout are underneath the surface."
Spring on the Smith is the combination of high, discolored water along with periods of clearing waters. The high water comes from runoff that occurs at different elevations.  You can be fishing the Smith in 70 degree weather in May using dry flies and 24 hours later the river is high and discolored.  Discolored water leads to San Juan Worms (although a San Juan Worm is good anytime and anyplace) it also leads to fishing with solid dark patterns for nymphs and streamers as trout will distinguish a solid shape quicker.
All trout rivers fish better as they are clearing and the water starts to recede than when rivers rise quickly. This is an absolute.  Las Vegas would phrase it this way: fishing rivers as they clear 2-1 advantage fishermen.  Rivers going up, trout have a 6-5 advantage.
The Smith River is a free stone stream with a very healthy stonefly population. Salmon flies emerge around Memorial Day with Golden Stoneflies more prolific emerging June 15 through the first week of July.  There is also a healthy caddis hatch on Mother's Day, followed by PMD's in late June and a hit and miss Green Drake Hatch.  We also have years where Cicadas really take over the river.
The best and most productive dry fly fishing days have clouds associated with them. Trout are nervous and wary with direct sunlight but give them a few clouds and the advantage can again move in favor of the angler.
Fishing the Smith is for anyone that wants to have fun. The better the angler the more productive they are going to be.  There is direct correlation between how well someone can manage their fly line and how many fish they can catch.  Managing fly line means using the right amount of fly line to cast, normally, less is best.  Anglers need to be able to either mend the line in the air or on the water to set up drag free drifts.  When the moment of truth arrives (when the fish hits the fly) a better managed fly line results with more trout.
Equipment. Entry-level fly rods and reels these days are excellent.  High-end rods and reels are really excellent.  I favor an Orvis Helios 2 nine foot, five or six weight.  I know fly rods are inanimate objects but the Helios 2 when I am fishing courses right through my body when I am casting, setting the hook and playing a fish.  The rod is the conduit to the fish and me, which becomes something more than fishing.  The connection with a trout approaches the divine.
Fishing License:  Montana has a number of different fishing license options from very short term to medium term to season.  At your convenience, please go online to: www.fwp.mt.gov to purchase your Montana State Fishing license for the days that you will be fishing on the Smith River.  Print and bring your license with you and have it with you at all times during your float trip.
Gear Suggestions: Please let us know in advance if there is anything that you are going to need to borrow (such as waders, boots, rods, reels, etc.)  If you have a lightweight rod such as a 4 or 5, and a median weight outfit such as a 6.
Flies/Leaders: Flies are provided by Lewis & Clark Expedition guides as part of your package.  However if you have some favorite patterns that you like to fish please feel free to bring them. We will fish a variety of leader lengths and weights. The guides will also provide all the leaders and tippets you need as part of your fishing package.
The following are items you should bring to Montana regardless of the season:
Polar Fleece hat, wool cap and a wide-brimmed hat.
Polarized sunglasses.
Gloves or mittens.
Good rain gear.
A warm jacket even in July.
A pair of long underwear. These are essential in spring and fall
My feet are always cold. Polar fleece socks, wool socks, silk socks what ever it takes for warm feet.
Shorts or a swim suit.
Fly Fishing Gear*
Fishing rod and reel
Flies
Extra line
Wading boots
Chest waders. Chest waders with a raincoat will keep you completely dry.
Bring a camera, binoculars, sun screen and insect repellent.
SMITH RIVER: If you are coming on the Smith River with us add the following items
Two long and two short sleeved shirts.
One pair of dry shoes for around the camp.
Warm sleeping bag.
Bring a small pillow and towels.
A soft bag or duffel bag up to 12″ around or loosely packed so that it can be stuffed into our dry bags.
Day pack for gear you might need on the river.
Fishing gear. The most versatile rod you can in Montana is a 9ft. six weight fast action rod. If you'd like to bring more rods no problem.
Small flashlight.
2 heavy trash bags for wet clothes.
Polar fleece sweat shirt or wool sweater.
Why This Fly Fishing Equipment Is Necessary:
You might ask, "Why would I need a warm jacket in July?" While it's true that July days are hot, the nights can be very cool. Here are a few reasons why we recommend the above equipment.
Staying Safe: It's our job to make sure you stay as safe as possible during your fly fishing trip. The above items will help you stay warm and dry and help protect you from sun damage and insect bites.
Maximizing Success: The better prepared you are, the greater chance you'll have of catching fish. We'll bring along a few spare items, but you're better off packing all the necessary gear yourself.
Having Fun: You should never forget to have fun during our outings—you're on vacation, after all. The above gear will help you stay as comfortable as possible so you can focus on enjoying the beautiful Montana experience.
Preparation and safety are key to having a successful fly fishing trip. If you have any questions about fly fishing gear or fly fishing in general, feel free to call Healing Waters Lodge of Twin Bridges, Montana at (406) 459-2030.
*Loaner equipment available through Healing Waters Lodge-Lewis & Clark Expeditions. Please contact us prior to your trip to make your needs known.
Guide and Gear Boat Staff Gratuity:  Our guides and gear-boaters pride themselves on hard work and professionalism; simply, they diligently strive to provide service beyond your expectations.  You will never be made to feel that any service is provided on the basis of gratuity, but tips do comprise a significant portion of their seasonal income and therefore are greatly appreciated. Our guides and gear-boaters generally receive an average gratuity of 15% of the cost of the trip. The tip pool is divided among each staff member taking care of you on the trip.
Cuisine: Smith River staff prepare fresh, balanced, and delicious meals for you each day. Beginning with a hardy breakfast, then pack a stream-side lunch for you and your guide enjoy. Refreshing drinks and appetizers await your arrival into camp each evening, followed by a gourmet dinner and delicious dessert, served in style and panache.  Please refer to the Questionnaire on the last page of this document to inform us in advance of any dietary restrictions, allergies or preferences.
Advanced Shipments: Many of our guests ship their fishing gear, luggage, or preferred wines and spirits in advance.  Please let us know by email when to expect your shipment and we will notify you when it arrives, let you know that it is safe, and have it available for you when you arrive in Helena.  Wine and spirits will be packed along with our trip supplies and available for you at camp.
Special Health Requirements: Please complete the form on the last page of this document and email back to hwlodgemt@gmail.com to make us aware of food allergies, restrictions or preferences and if you have any specific health or mobility concerns that we should be aware of.  We will coordinate alternatives and accommodations with you.
Non-Angling Activities
We would love to have you join us at Healing Waters Lodge in southwest Montana before or after your float trip down the Smith River.  We are also an hour and a half from the entrance to Yellowstone National Park.  This area provides a wide variety of activities for those inclined and not so inclined to fish.  The following is a sampling of what this area has to offer.  We will be happy to help you arrange any activity.  Please note that some of these activities may have additional costs.
Terms and Conditions – Important Information – Please Read Carefully
Included in your Smith River float trip: Tents, cots, thermal-rest pads, guided fishing, food, water, beer, wine, loaner fly fishing equipment, all terminal tackle such as flies, leaders and indicators.
Not included in your Smith River float trip: Montana fishing licenses, guide and gear-boater staff gratuities, airfare, airport shuttle, lodging pre-post Smith River float trip. Costs included for non-fishing activities.
Reservations, Deposits and Payments: You will be emailed an estimate of your booking, once you have agreed on the terms of the reservation, you will be emailed an invoice for 50% deposit due within 10 days.  Final payment is due upon check-out.
Cancellation Policy: If you must cancel your reservation, a full refund will be issued if notice of the cancellation is provided in writing at least 120 days prior to your lodging and fishing dates. We strongly recommend you purchase travel insurance: http://www.orvis.com/s/global-rescue-travel-services/4763
Refunds: No refunds will be made for unused portions of your stay, including late arrival or early departure. We reserve the right to modify an itinerary due to circumstances beyond our control.  In the unlikely event that we must cancel a portion or all of your reservation, all payments received to date will be refunded, which constitutes a full payment.
Lewis & Clark Expeditions Disclaimer: The owners, employees, associates and agents give notice that they act only as the agent for the owners, contractors, and suppliers providing means of transportation and/or other services and assume no responsibility howsoever caused for injury, loss or damage to person or property in connection with any service resulting directly from: acts of God, detention, annoyance, delays, expenses arising from failure of any means of conveyance to arrive or depart as scheduled, civil disturbances, terrorism, government restrictions or regulations.  Baggage and personal effects, including items purchased, guns, fishing equipment or sporting goods are the sole responsibility of the owners at all times and no employee/agent of Lewis & Clark Expeditions.