Healing Waters Lodge Cuisine
Enjoying delicious food is a big part of being on vacation. At Healing Waters Lodge, located in southwestern Montana, we offer our guests a wide variety of gourmet dishes. We promise that you will eat very well during your stay at our Montana fly fishing lodge.
Delicious Meals at the Lodge
In the mornings, we'll provide you with all the fuel you need for your fly fishing trips. When you get back, you'll have an exquisite gourmet meal waiting for you.
Local Ingredients: Montana soil is very fertile, and dozens of tasty ingredients are grown locally.
Flexible Kitchen: A true gourmet kitchen should be ready for anything. We're happy to accommodate dietary restrictions or preferences.
Seasonal Dishes: As the seasons change so do our menus to ensure that the ingredients we use are at their peak for flavor and presentation. This also enables returning guests to enjoy delicious new dishes.
Sampler of Dishes Served at Healing Waters Lodge
Our menu varies depending on the season. Below is a sampler of our menu: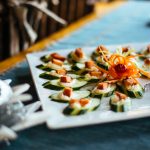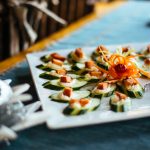 Appetizers:
Toasted walnut and Manchego cheese puffs
Smoked salmon with wasabi sour cream on cucumber rounds
Moroccan-spiced elk meatballs with lemon-curry yogurt dipping sauce
Pheasant sausage in Cognac sauce
Mushroom tarts with truffle salt, marinated asparagus spears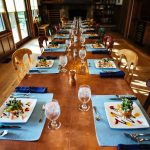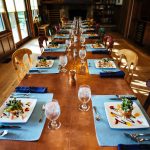 Starters:
Watermelon soup
Locally grown mustard greens with goat cheese-buttermilk dressing
Local greens with pecans, dried cranberries, chick peas
Locally grown arugula with shaved parmesan cheese
Panzanella salad
Entrees:
Roast bison tenderloins with Flathead cherry chutney, mashed yams, and Romano beans
Seared duck breasts with rhubarb compote, summer squash with basil gratin, and Haricot Verts
Grilled local rainbow trout with mango salsa, quinoa with locally grown broccoli, pine nuts. feta cheese
Chinois-marinated rack of lamb with mint-cilantro salsa, saffron couscous, garden vegetables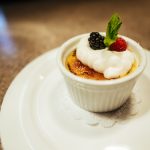 Desserts:
Homemade espresso gelato and citrus polenta cake
Cuban rum cake
Chocolate beet cake with crème anglaise
Zucchini olive oil cake with lemon crunch glaze
Italian-style cheesecake made with almond crust and homemade ricotta cheese
We are glad to accommodate any dietary restriction or preference.
If you're dreaming to go fly fishing by day and enjoy delicious gourmet meals at night, consider booking a fly fishing trip to Healing Waters Lodge. Please call (406) 684-5960 if you have any more questions about our menu.