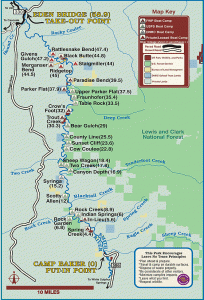 Smith River Fly Fishing
The Smith River is centrally located in Montana, beginning in the Castle Mountains flowing northwest where it eventually joins the Missouri River about 10 miles south of Great Falls.  A fifty-nine mile section of the Smith River corridor is designated as a state park under the management of Montana Fish, Wildlife and Parks agency.  Permits are required to float this most coveted section of the river in order to preserve and protect this important resource.  Lewis & Clark Expeditions, holds the most commercial outfitter permits and has over 25 years of experience running 5 day/four night trips on this river.
In reference to the map, we put in at Camp Baker (bottom of map) and float north each day stopping at camps each night along the way to the takeout at Eden Bridge (top of map.)  The river is best known for its scenic beauty, remote setting, tall limestone walls, wildlife viewing and considered a blue-ribbon trout fishery.  The river is only accessible by non-motorized watercraft, which includes drift boats, rafts, canoes and kayaks with one public put-in and take-out for 59 river miles.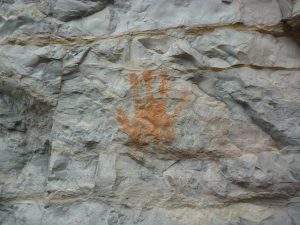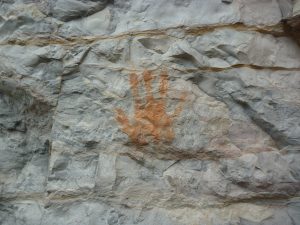 The Smith River primarily winds through protected national forest lands and some private land used for recreation, ranching and farming.  Wildlife viewing opportunities along the Smith River corridor include: bats, bears, beaver, birds, coyotes, deer, elk, mice, mountain lions, otters, rabbits, raccoons, skunks, and snakes.  Dependent upon the season and weather, wildflower viewing may include: lupine, prairie coneflower, arrowleaf balsamroot and indian paintbrushes, shooting stars, and bear grass.
The following video was done by Montana Trout Unlimited and demonstrates how special Montana's Smith River float is to folks who have experienced this special place:
Montana's Smith River must be experienced to be understood.  Contact Mike Geary at 406-459-2030 for more information about floating the Smith River with us.