Meet Our Fly Fishing Guides
World Class Guides. Local Expertise.
It is never easy to blow your own horn but we feel that we have one of the most experienced, knowledgeable and personable group of guides in the country.  They will not just help you catch fish but they will make you a better angler and they will share with you their love for Montana and its wonderful natural treasures.
Bart Doig is a native Montana who chose to stay in state and make a career as a professional guide. Like all of our guides, Bart is a wonderful angler and a terrific stream guide however Bart's real passion is chasing exceptionally large trout on some of the stillwater fisheries of southwest Montana. Bart has had clients catch a number of fish in the ten pound class guiding anglers and hunters in Montana for over 25 years.
Butch Wicks is an import to Montana. We will forgive him that since he grew up in Oregon and has guided steelhead and trout fishermen for many years in the northwest and Montana. Butch retired from a career as a teacher and now is one of the primary instructors of the "Fish Like a Guide, But, Live Like a Client" Fly Fishing Schools at Healing Waters Lodge.  Butch enjoys technical match the hatch type of fishing and is really at home on our spring creeks.
Terry Throckmorton grew up in Montana. He has been a fishing and hunting outfitter in southwest Montana for well over 20 years. Terry is another apparently easy going and laid back Montana guide. He is a very easy man with whom to spend time on the water but don't let that relaxed demeanor fool you! When it comes to finding fish and game Terry is a predator!
Tim Flynn was born and raised in Beaverhead County.  Tim enjoys showing our guests the special places in southwestern Montana. The wildlife, natural setting, and the challenge of chasing fish are great motivation for an enjoyable day.  He cares deeply about the natural resources and utilization of those resources.
T.J. Mignault has established an excellent reputation and is one of those guys who is fishing every day of the year when he is not guiding. He knows the Big Hole and Jefferson area very well and we are very happy to have T.J. on our team!
Tristan Connell is a man of many talents.  He started guiding in northwest Wyoming, but kept finding himself in southwest Montana fly fishing on the Big Hole, Beaverhead, Jefferson, Madison and other local area waters.  He thoroughly enjoys sharing the world class fly fishing opportunities in our area with guests of all skill levels.  Tristan spends summers guiding for Healing Waters Lodge and winters in Jackson, Wyoming to work the ski season.
Todd Throckmorton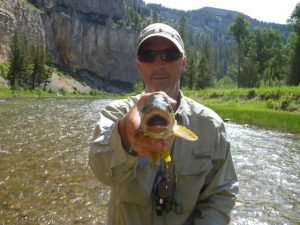 John Howard could be the most consummate angler I know. He fishes all over the west but part of John's strength as a guide is the pure joy of having him in a boat all day. He has all the skill of both a great guide and angler and none of the conceit that can filter into guiding. John believes fly fishing is for everyone at every level.

Brian Scott came out the womb with a set of oars and a fly rod. Brian is fiercely proud of his Montana heritage and is a font of information on everything that swims, bears fur or feathers. I don't know who in the state has been down the Smith as many times as Brian. Brian also guides on the Missouri with the same expertise that he brings to the Smith River. (Brian is the one holding the trout)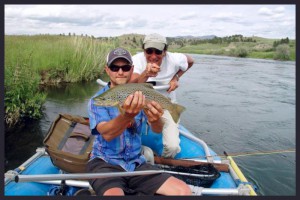 Bill Denryuter is a consummate outdoorsmen fishing and hunting throughout the year. Bill is kind, considerate and works as hard as anyone on the planet on behalf of our clients. He is always knowledgeable and extremely competent without any arrogance or conceit that filters into lesser guides.