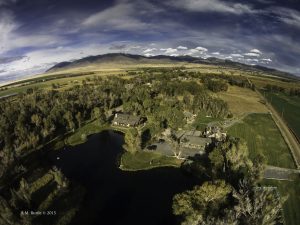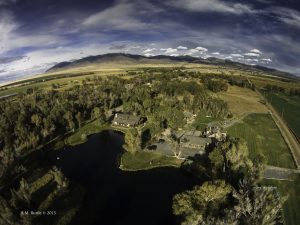 Location: Healing Waters Lodge is an ORVIS endorsed fly-fishing lodge located in the heart of the Ruby Valley surrounded by the Tobacco Root, Ruby and Pioneer mountain ranges. The lodge is situated between the towns of Sheridan and Twin Bridges surrounded by cattle ranches, nestled among cotton wood trees, and offers stunning views in all directions.
Getting Here: We recommend our guests use the Bozeman-Yellowstone International Airport. The airport is convenient and only 90 interstate and highway miles from Healing Waters Lodge.
Available airlines include:
Alaska Air              www.alaskaair.com                   800-252-7522
Allegiant               www.allegiantair.com                702-505-8888
American Airlines   www.aa.com                            800-433-7300
Delta                    www.delta.com                        800-221-1212
Frontier                www.frontierairlines.com          800-432-1359
Jet Suite               www.jetsuite.com                    800-435-9579
United                           www.united.com                      800-864-8331
Private Jet or Personal Aircraft: Pilots should contact:
Twin Bridges Airport (approximately 5 miles from Lodge)    406-684-5585
Dillon Airport (approximately 20 miles from Lodge)            406-683-5242
Airport Shuttle Service: Healing Waters Lodge offers airport shuttle service for $150 per vehicle each way. We use a variety of vehicles for our shuttle service from a standard sized car for 1-3 guests, to large sized SUV's and extended cab trucks, to 12 passenger vans to accommodate large groups. Please note: We do not charge a shuttle service fee for Twin Bridges and Dillon airports.
Car Rental agencies available at the Bozeman airport include:
Alamo                   www.alamo.com                       800-227-7368
Avis                      www.avis.com                          800-352-7900
Budget                 www.budget.com                     800-527-0700
Enterprise             www.enterprise.com                800-261-7331
Dollar                   www.dollar.com                       800-800-5252
Hertz                    www.hertz.com                       800-654-3131
Thrifty                  www.thrifty.com                      800-847-4389
National                www.nationalcar.com               888-868-6204
The address for Healing Waters Lodge is 270 Tuke Lane, Twin Bridges, Montana. Directions are dependent upon where you are starting from and can be found on-line, such as Google Maps or on your SmartPhone by asking Siri. Please contact us if you need additional assistance.
The Lodge: Healing Waters Lodge is designed with the comfort of our guests in mind. Clean, comfortable and spacious rooms with two queen sized beds, private bathroom, and a porch with a view. All rooms are equipped with Wi-Fi and cellphone coverage. We offer door-to-door guide service, personalized laundry service, a large outdoor hot tub, and an exercise room. The original main lodge has a kitchen, pool table, Direct TV and sitting areas; telephone, fax and computer/printer for guest use. Our guests are encouraged to enjoy practicing their casting skills on our beautiful pond.
Cuisine: Our Chefs proudly create gourmet menus that offer a variety of fresh, balanced and delicious meals. Begin each day with a hardy breakfast and then enjoy a healthy and satisfying lunch on the water with your guide. Refreshing drinks and appetizers are served in the sun porch followed by a gourmet dinner in the dining room overlooking the pond. Fresh herbs and produce from the lodge garden as well as from Ruby valley growers compliment our delicious food. The Lodge offers a select choice of wines and beers; guests may bring their own liquor.
Fly Fishing Guides: Healing Waters Lodge is privileged to have, easily the most experienced, knowledgeable and personable group of guides in Montana. Their primary goal is to provide you with the best opportunities, advice, and share techniques to help you catch and land the fish of your dreams. Our guides can cover the spectrum from the novice to the hardcore angler. Inevitably, their love and enthusiasm for Montana and the waters we fish will also rub off on you. We would appreciate you sharing your photos with us so that we can use them on our website, newsletters and promotional materials.
Fishing: At Healing Waters Lodge, we believe that we have more angling choices within easy driving distance than anyone else in Montana. You can float the larger rivers in southwest Montana such as the Beaverhead, Big Hole, Jefferson, and Madison. You can walk wade on smaller meadow streams like the Ruby and the South Boulder. We have exclusive access to private spring fed creeks and ponds. Please reserve as far in advance as possible.
After breakfast, our guides will pick you up in front of your room and will offer recommendations for your fishing day. Our goal is that you are successful in your piscatorial pursuit and are enjoying your time on the water. Your guide will have refreshments, ice cold water, a hearty lunch, and snacks available to you throughout the day.
Guests typically return to the lodge in time to enjoy a soak in the outdoor hot tub, shower, and relax on their private porch or perhaps, take a nap. Appetizers and refreshing drinks are followed by a lovely dinner.
Fishing License: Montana has a number of different fishing license options from very short term to medium term to season. You can go on-line at www.fwp.mt.gov and buy your license or you can stop at a retail outlet when you arrive in the area or we can help you at the lodge.
Gear Suggestions: Please let us know in advance if there is anything that you are going to need to borrow. If you have a lightweight rod such as a 4 or 5, and a medium weight outfit such as a 6 and a heavier outfit such as a 7 or 8 weight, bring all three.
Flies/Leaders: Flies are provided by Healing Waters Lodge as part of your package. However if you have some favorite patterns that you like to fish please feel free to bring them. We will fish a variety of leader lengths and weights. The guides will provide all the leaders and tippets you need as part of your Healing Waters Lodge fishing package.
Clothing: Weather in Montana is changeable in the early, middle and late seasons. You can start the day in long underwear and end it in short sleeves. Come prepared for any type of weather. We suggest that you layer your clothing. A good set of top and bottom long underwear is advisable in the early and latter part of the season. You may want fleece pants under your waders. A turtleneck with a heavier shirt and then topped off with a fleece pullover works well. A good water/wind proof jacket is recommended both for rain and wind protection. Wet wading is usually possible from about mid June to Mid September but have your waders along just in case. Of course you should have good waders with rubber or felt soled wading shoes or boot foot waders with rubber or felt soles. Again, if you need to borrow waders and boots please notify us of the shoe size and your height, we will set aside a pair that will closely fit you. Some folks like fingerless gloves and some like to have a good set of full-fingered gloves just to put their hands in to warm on colder days. A warm hat plus your normal fishing cap or hat is recommended. Polarized sunglasses are highly recommended.
Non-fishing clothing: Casual dress is name of the game at Healing Waters Lodge.
Guide Gratuity: Our guides pride themselves on hard work and professionalism; simply, they diligently strive to provide service beyond your expectations. You will never be made to feel that any service is provided on the basis of gratuity, but tips do comprise a significant portion of their seasonal income and therefore are greatly appreciated. We prefer to leave guide gratuity up to the guests. Leaving a tip is customary in this profession. Our guides generally receive an average gratuity of $125-$150 per day, split between the two anglers. Please leave an amount that you feel is appropriate. You can tip your guide individually at the end of each day if you like or if you prefer we will be glad to add the guide's tip into your tab at check-out and make sure your guide receives their tip.
Hospitality staff gratuity is included with your lodge package. All Lodge staff gratuities are divided up after your departure and distributed equally among Lodge staff (Chefs, servers, dishwasher, housekeeping.)
Advanced Shipments: Many of our guests ship their fishing gear, luggage, or preferred wines and spirits in advance. Please let us know by email when to expect your shipment and we will respond when it arrives, let you know that it is safe, and have it in your room when you arrive to the lodge.
Check in policy: Check in is typically around 4:00 pm. If you require an earlier check in time please notify us in advance.  
Cell Phones: Cell phone coverage in southwest Montana continues to improve but is still sporadic.
Special Health Requirements: Please indicate any health restrictions or physical limitations (such as needing a ground floor room) on the questionnaire and email back to us at hwlodgemt@gmail.com so that we can communicate with you and plan according to your instructions.
Non-Angling Activities
Believe it or not, southwest Montana is not only about fishing. This area provides a wide variety of activities for those not inclined to fish. The following is a sampling of what this area has to offer. We will be happy to help you arrange any activity. Please note that some of these activities may have additional costs.
Bannack State Park: http://stateparks.mt.gov/bannack/
Beaverhead County Historical Museum: http://beaverheadcountymuseum.org/
Beaverhead Golf Course: www.beaverheadgolf.com
Big Hole Battlefield National Park: http://www.nps.gov/biho/index.htm
Bird-watching: http://mtaudubon.org
Hiking: http://southwestmt.com/thegreatoutdoors/hikingandbackpacking/
Horse-back Riding: Upper Canyon Ranch Outfitters Horse-back Riding Packages
Lewis and Clark Caverns: http://stateparks.mt.gov/lewis-and-clark-caverns/
Nevada City and Virginia City: http://www.virginiacitymt.com/
Shopping: http://southwestmt.com/fooddrinkandshopping/shopping/
The Old Hotel: http://www.theoldhotel.com/
Twin Spirits Yoga: http://www.yogamontana.com/
Montana Trout Unlimited: http://montanatu.org/
Terms and Conditions – Important Information – Please Read Carefully
Included in your Healing Waters Lodge stay: Lodging, meals, guided fishing, beer, wine, loaner fly fishing equipment, all terminal tackle such as flies, leaders and indicators and hospitality staff tips.
Not included in your Healing Waters Lodge stay: Montana fishing licenses, guide gratuities, private water fishing fees, airfare, airport shuttles. Airport shuttles can be arranged with the Lodge for an extra charge. Cost of non-fishing activities.
Reservations, Deposits and Payments: You will be emailed an estimate of your booking, once you have agreed on the terms of the reservation, you will be emailed an invoice for 50% deposit due within 10 days. Final payment is due upon check-out.
Cancellation Policy:

A deposit of 50% payable by credit card (a 3% transaction fee is applied) or check, within 14 days of booking will confirm your reservation. The balance is due 30 days prior to your visit. Final payment by credit card (a 3% transaction fee is applied) or check is due 60 days prior to arrival. Add-ons such as payment for private water rod fees, airport shuttles, fly-shop or special purchases, etc. during your stay must be paid in full upon departure.
We are a small business and cancellations affect us significantly giving us little chance of filling the space. For this reason we uphold a strict cancellation policy. Your deposit is fully refundable, less a $200 per person cancellation fee, will be happily refunded if the cancellation is made at least 120 days prior to scheduled arrival. For cancellations less than 120 days prior to scheduled arrival, the deposit will be credited toward a future reservation which must be taken within one year of the original reservation date. We regret that no refund or partial refunds are possible for non-guided fishing days, non-arrivals, late arrivals or early departures.
We highly recommend that guests purchase travel insurance. Global Rescue provides a special policy for Orvis Endorsed Fly Fishing Lodges. Please contact Global Rescue for more information.

Occupancy Policies: Lodging fees are based upon double occupancy. Single occupancy is charged $100 per day extra.
Arrival and Departures: Typically, check-in is 4:00 p.m. and check-out is 9 a.m. We offer an airport shuttle service for $150 per vehicle, each way.
Airports: The majority of guests use the airport in Bozeman, which is 90 miles from the Lodge. The Butte airport is 50+ miles from the Lodge, but does not offer as many flight options. Guests using private air transportation can use the airport in Dillon or Twin Bridges (we do not charge an airport shuttle fee).
Healing Waters Lodge Disclaimer: The owners, employees, associates and agents give notice that they act only as the agent for the owners, contractors, and suppliers providing means of transportation and/or other services and assume no responsibility howsoever caused for injury, loss or damage to person or property in connection with any service resulting directly from: acts of God, detention, annoyance, delays, expenses arising from failure of any means of conveyance to arrive or depart as scheduled, civil disturbances, terrorism, government restrictions or regulations. Baggage and personal effects, including items purchased, guns, fishing equipment or sporting goods are the sole responsibility of the owners at all times and no employee/agent of Healing Waters Lodge.
 LODGE PRE-ARRIVAL QUESTIONNAIRE 2020
Please complete this form and email back to: hwlodgemt@gmail.com
Name(s):
Mailing Address:                                     Cellphone (for airport shuttle pick-up):
Email address:                                                          
Date of Arrival:
Airport Shuttle needed? _____YES         _____NO
Flight Information: Airport _____ Flight # _____ Arrives ________
Date of Departure:
Airport Shuttle needed? _____YES         _____NO
Flight Information: Airport _____ Flight # _____ Departs ________
If driving, please indicate time you expect to arrive _______
Please contact Laura at 406-459-5582 if there are any changes to your travel plans (such as canceled/missed flights, emergencies, illness, etc) so that we can plan accordingly.
___ Yes, I am interested in reserving private water day(s).
___ Yes, I want to reserve an in-room appointment for a massage with    Body and Soul Massage.
Food Allergies/Restrictions or Preferences:
Physical Limitation or Assistance Requirements:
Emergency Contact Information: