Written by Chuck Robbins
Newsflash! The Big Hole River Salmon Fly hatch is now officially happening. Trout, some of them big, have been seen slashing the surface, crushing adult bugs from Fish Trap to Glen (and doubtless on downstream aways but I haven't talked to anyone willing to brave the lower river's plus 6000 cfs flow).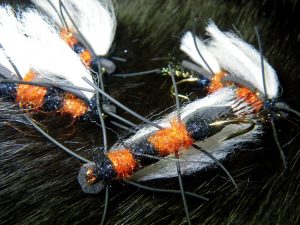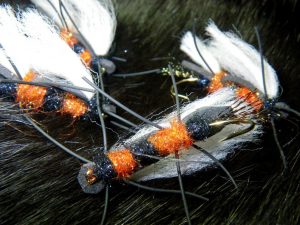 Size 4 streamers (Punkin' Buggers n such) and stonefly nymph patterns such as brown or black Pat's Rubberlegs, Bitch Creeks, Yuk Bugs n such work well mornings. I like to rig a big, high floating dry such as a Chubby and drop a rubberlegs off it. Be sure to pitch it tight to the banks. Any slack water is worth a shot as trout don't dig battling raging currents anymore than we do.
Should the trout snub the big stuff try caddis, yellow sallies, golden stones and even PMDs, both wet and dry, in standard sizes.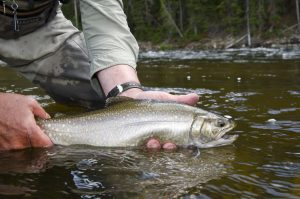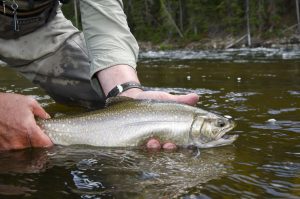 The river had been falling rapidly but Thursday's heavy rain caused a slight bump-up. Despite the slightly higher flows visibility remains excellent (about 4 feet).
Until flows drop well below 5000 cfs the Diversion Dam below Silver Bridge remains off limits for all but "master oarsmen." While there's no law against running anytime, unless you know what you're doing why take a chance? Like the Big Hole offers a whole bunch of safer floats…Just sayin'.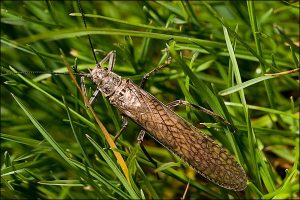 Since opening day, from Dam to Grasshopper FAS the Beav has been fishing pretty good most days. Not much on top but streamers and a variety of nymphs—Barr's Emerger, Scuds, Sow bugs, San Juan worms and PT style nymphs. A couple days ago they bumped the flow out the dam big time and, at least for me, put a temporary damper on the bite. The good news today (June 9) the graph appears to have flat-lined, so I expect the fishing to improve pronto. Grasshopper creek continues to dirty the river down to Barretts but visibility is slowly but surely improving (actually I think streamers and SJWs should work now).
All the other rivers and creeks we fish are falling though still somewhat higher than the long-term average. Barring unforeseen heavy downpours I expect we will be fishing them soon. Despite the longer than normal runoff and continued high flows the water temperature regimes remain in the ideal 55-65 range through out.