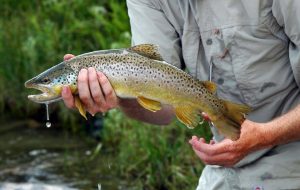 What: Presentations on our fly fishing vacation packages
When: January 21, starting at 2:00 p.m.
Where: Austin Orvis Store, 10000 Research Blvd, Austin TX, phone: 512-795-8004
Who:  Mike Geary, Owner, Healing Waters Lodge and Lewis & Clark Expeditions
Mike will be at the Austin Orvis store to present our Healing Waters Lodge fly fishing vacation packages.  The Lodge is located in southwest Montana near the town of Twin Bridges and has easy access to miles of private spring creeks, meadow streams, and ponds; and, rivers such as the Beaverhead, Big Hole, Jefferson, Madison and Ruby, walk-wade and floating opportunities with our excellent guides.  We offer, great food, clean and comfortable lodging, and stellar views in the heart of the beautiful Ruby valley.
His presentation also includes information about our Smith River Montana fly fishing vacation package: 5 days of guided float fishing with 4 nights of safari style camping, down 59 river miles from put-in to take-out.  Your guide floats you downstream, 8-12 miles a day, and you arrive at camp in time for hors d'oeuvres, beer and wine and other refreshments, followed by a freshly prepared gourmet dinner.  Relax around the campfire under the stars.  The next morning our staff prepare a hearty breakfast and then you are off again with your guide for another day of fly fishing.
Mike Geary is the man with a plan and glued to his cellphone (406-459-2030) waiting to talk to YOU!