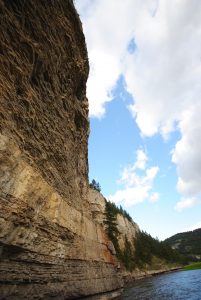 The Smith River is immersion therapy for anyone that wants to get a feel for Montana 50 years ago. The floating part of the canyon is 60 miles with two public access points. You embark from Camp Baker outside of White Sulphur Springs, which has been described as looking like a hooker without makeup. You take out at a Montana Fish, Wildlife and Parks access site called Eden Bridge. In between, these two take outs is a retreat to a kinder more civilized world where cell phones, stop lights and internet access ends.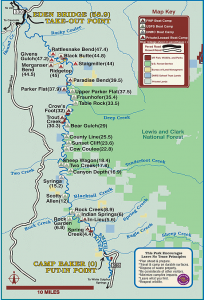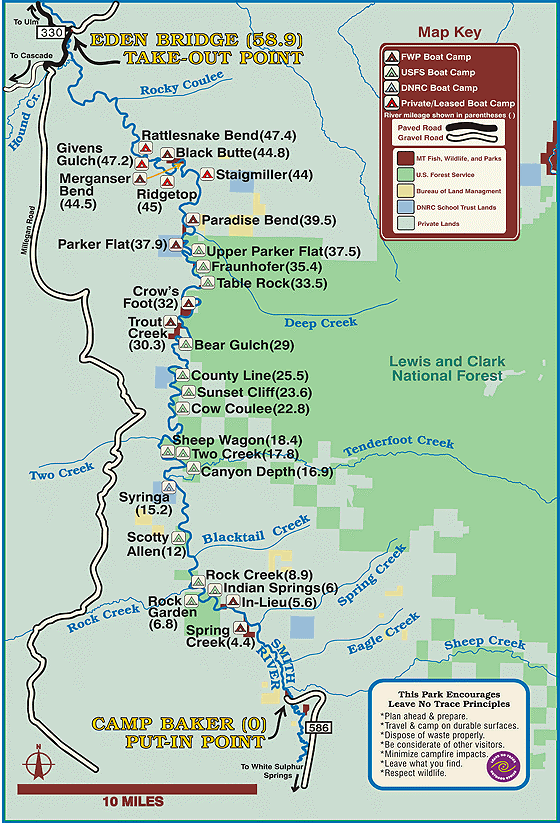 The average floater takes five days and four nights covering 60 miles where the poetic hand of God is on display at every bend. Campsites and registration are all assigned the day of your float by a Fish, Wildlife and Parks Rangers.   There are nine launches a day with the majority of traffic in June. Each launch has a maximum carrying capacity of 15 people.   You are going to see people on the river.
If you don't believe in global warming your floating season can extend into July, August and September where you have all the hopes and dreams of a child. If you are a believer in global warming the floating season starts in May and ends with luck by the first of July. This translates into earlier runoff and less water. The Smith can go from a roaring river to meek stream in a matter of weeks.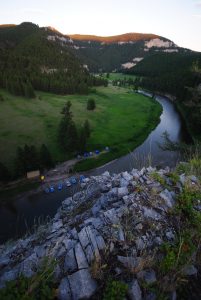 EQUIPMENT
Be aware of the "CFS" (cubic feet per second) which measures the amount of water in the river. Too little water and you will be doing a five-day eco-challenge leaving you with new hernia scars. Too much water and you can put in for breakfast and take out for Happy Hour 60 miles downstream. A hard boat in lower waters means a damaged boat at the end of five days plus a ton of dragging, lifting and perhaps seeing the white light approach earlier than anticipated. Rafts extended your floating season in low water but bring a patch kit. Actually, bring a couple of patch kits. The Smith isn't for everyone and this is the beauty of the trip. If you are self-reliant, woodsy with a little joie de vivre this is one of the great trips anywhere. If you have an IQ of a fence post you might hear God calling you. So, it goes….
EQUIPMENT LIST
The following are items you should bring to Montana regardless of the season:
Polar Fleece hat, wool cap and a wide-brimmed hat.
Polarized sunglasses.
Gloves or mittens.
Good rain gear.
A warm jacket even in July.
A pair of long underwear. These are essential in spring and fall
Socks. My feet are always cold. Polar fleece socks, wool socks, silk socks what ever it takes for warm feet.
Shorts or a swim suit.
Fly Fishing Gear*
Fishing rod and reel
Flies
Extra line
Wading boots
Chest waders. Chest waders with a raincoat will keep you completely dry.
Bring a camera, binoculars, sun screen and insect repellent.
SMITH RIVER: If you are coming on the Smith River with us add the following items
Two long and two short sleeved shirts.
One pair of dry shoes for around the camp.
Warm sleeping bag.
Bring a small pillow and towels.
A soft bag or duffel bag up to 12″ around or loosely packed so that it can be stuffed into our dry bags.
Day pack for gear you might need on the river.
Fishing gear. The most versatile rod you can in Montana is a 9ft. six weight fast action rod. If you'd like to bring more rods no problem.
Spirits.
Small flashlight.
2 heavy trash bags for wet clothes.
Polar fleece sweat shirt or wool sweater.
Why This Fly Fishing Equipment Is Necessary:
You might ask, "Why would I need a warm jacket in July?" While it's true that July days are hot, the nights can be very cool. Here are a few reasons why we recommend the above equipment.
Staying Safe: It's our job to make sure you stay as safe as possible during your fly fishing trip. The above items will help you stay warm and dry and help protect you from sun damage and insect bites.
Maximizing Success: The better prepared you are, the greater chance you'll have of catching fish. We'll bring along a few spare items, but you're better off packing all the necessary gear yourself.
Having Fun: You should never forget to have fun during our outings—you're on vacation, after all. The above gear will help you stay as comfortable as possible so you can focus on enjoying the beautiful Montana experience.
AND THE FISHING???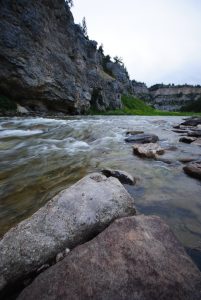 The fishing like every freestone river in the state can be put the angler into a state of fishing rapture or angling ignominy. Most great fishing is a matter of timing and the great days arrive because you have spent a lot of time on the water. Most fishing and fish are earned rather than given. If you want to hear God laugh tell him your fishing plans. You would be hard pressed to find a more beautiful setting to catch a trout than on the Smith River.
Fly fishing is an endeavor where you lose your mind and open your wallet. So, for the Smith River don't be shy about bringing every piece of fishing equipment you own. However, if limited in gear, a nine-foot five weight is great. A five-weight floating line with 3x leader and you are armed and dangerous. Remember you are going to be gone for five days of Homeric angling bring an excessive number of flies:
ATTRACTORS: Stimulators, Turks Tarantulas, Chubbies, Chernobyl Ants, Golden Stones, Sofa Pillows and anything in your fly box that is large and can bamboozle.
DRY FLIES: Purple Hazes, Royal Wulf's, Green Drakes, Elk Hare Caddis, Parachute Adams, PMD's, Blue Winged Olives, Griffith Gnats, Ants, Beatles and throw in a Mouse Pattern for the helluva it.
NYMPHS: Big Gaudy Stoneflies, Rubber Legs, Girdle Bugs, Lightening Bugs, Prince Nymphs, Hares Ears, Pat Stoneflies, Bitch Creek Nymphs, Pheasant tails and DO NOT LEAVE HOME WITHOUT A COUPLE HUNDRED BEADED SAN JUAN WORMS.
STREAMERS: Big hole Crawlers, JJ Specials, Woolly Buggers, Zonkers, Sparkle Minnows, Double Bunnies, Leeches and whatever you feel possesses some sex appeal to a trout.
Montana State Parks is a good place to start if you are interested in the Smith River.