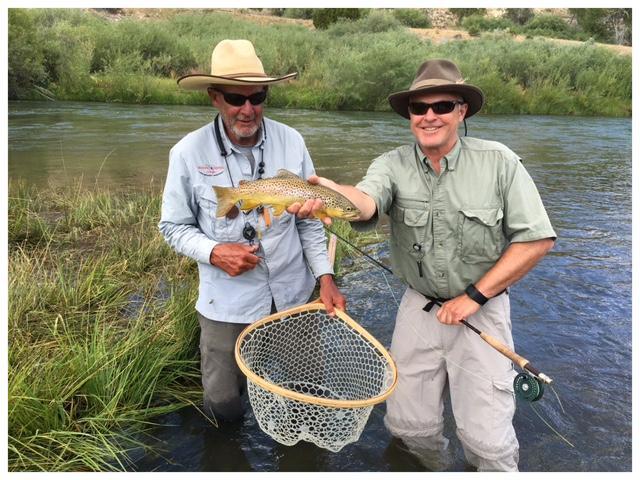 Chuck Robbins (L)
Chuck Robbins was a guide, author, conservationist, husband and father, and a friend.  Chuck treaded gently on the land that he loved and gave more than he got.  He was an ardent conservationist working to maintain public lands, clean water and wild trout.  Chuck was a man of dignity, integrity and made the people around him better.  He passed away on June 12 and will be missed by everyone that touched his life.
In Montana, there isn't a problem that water can't solve and we have plenty of water this year.  Spring was wet and cool along with June.  Summer is here with warm days and still cool nights and the rivers are receding into their summer feeding lanes.
Healing Waters Lodge hosts Jose Delgado, Orvis Houston
Roses are red; violets are blue.  I am a schizophrenic and so am I.  A fishing Q & A with myself.
Q.  When is the best time to fish in Montana?
A.  Since today is August 15, I would say without hesitation August, September and October.
Q.  What is the weather going to be like?
A.  Warm in August with a gradual cooling starting in September.
Q.  When is the best time to come to Montana for big fish?
A.  August, September and October.
Q.  When does Hopper season start?
A.  I was on Upper Blacktail Creek outside of Dillon the other day and had to fight them off.  The Upper Blacktail with a three weight is dry fly paradise with plenty of fish on Big Dry Flies.
Hopper season starts next week right after the NFL training camps start.  The Big Hole, Beaverhead, Madison, Jefferson and Ruby will all surrender to Hoppers.
Q.  What are you reading this summer?
A.  Grapes of Wrath by John Steinbeck.  Steinbeck is the author that got me started reading and I have never looked back.  Our country had some real problems in the Depression but to quote Ma Joad, "the people just a keep on comin."  I like to think we still have that kind of grit.
Q.  Thoughts on Dry Fly Fishing?
A.  Everyone likes to Dry Fly Fish to see a trout hit a fly on the surface is dramatic, soulful and beckons religious rapture.  However, throwing streamers is also a visual experience.  If you put on a highly visible streamer with bling like a Sparkle Minnow you capture all the visual elements of dry fly fishing which is seeing the trout assault the fly.  If you can make a streamer come alive in the water by twitching it, stripping it or pulsating it underneath the water you are in for a rush.  Throwing streamers has all the visual effects of dry fly fishing plus it is generally more successful in enticing to fish to the hook.
A.  It is like going to heaven without dying.  The Smith is for everyone who enjoys great beauty, great water and enjoys the road less traveled.  We float the river in May, June and July.  The best time to book a trip for 2019 is in August, September and October of 2018.
A.
  This is a ballot initiative in Montana that would assist in averting future mining disasters in our state. Please go to: 
www.yeson186.org
 and get involved in helping Montana stay Montana.