On our refrigerator, I have a magnetic plaque with a picture of John Wayne in a cowboy hat from the movie Hondo along with the quote, "A mans gotta do what a mans gotta do."
This implied saving damsels in distress, taking on mountain lions with your bare hands, drinking whiskey neat, smoking filterless cigarettes and having a code.
In 1979, the Duke augered in and so did an era.  I am a relic, a dinosaur, but the following is about the women on the Smith River and at Healing Waters Lodge that changed my life. Along the way, I believe they made me a better person.
Rikki Gunnarsdottir-Dilschneider.
I met Rikki in the summer of 1995. Rikki rowed at the University of New Hampshire and was living in Bozeman where she started working as a gear boater for a competitor on the Smith River. We were desperate for a gear boater for a fall trip and discovered Rikki was available.  Rikki is 5'7″ and weighs maybe 120 pounds. Gear boating on the Smith means you are loading and unloading a ton of supplies on and off the boats, setting up tents, breaking them down, cooking, cutting firewood along with pushing an overloaded barge boat downstream in low water. Physically she is the strongest person I have ever met pound for pound along with being fiercely competitive. She is from Iceland and has enormous pride in her heritage and the ability to be an equal in any situation.  Everyone gravitated to Rikki.  She outworked and out rowed all of us along with a sense of humor that made everyday lighter and easier.  She went on to guide, attended Joan Wulff's casting school (by the end of the school was giving Joan Wulff some tips).  Rikki taught me that gear boating and guiding in Montana has nothing to do about gender but more to do with brains, grit and character. Today she is selling real estate at Berkshire Hathaway in Ennis and lives with her husband, Joe Dilschneider and their two daughters.
Anna Cates.
 I did say that Rikki was the strongest person I ever met pound for pound but maybe that title went to Anna Cates.  I met Anna when she was a  year old and couldn't imagine her as a gear boater. Her parents, Dave and Roselie, are life long friends of mine. I remember Anna as skinny kid, bookish, quiet, and even young didn't suffer fools lightly. She started working for us right out of high school. I think we were trying to teach her how to row that summer. She went off to Dartmouth on an academic scholarship and came back the next summer to work on the Smith River. What a difference a year makes. Anna left a teenager and came back a young adult. She out rowed and out worked everyone around here. It was already a given she could out think us. I kept giving her responsibility which she assumed taking charge leading trips. She was a workhorse using the money in the summer to pay for college expenses. Anna ruled the Smith River for the years she was there.  She is still bookish with PhD in Agronomy from the University of Wisconsin.  Today she is with her husband two children living in Minnesota.
Hailey DeMarois. When I met Hailey she was carrying a Bible and her goal that summer was to read the good book cover to cover.  I once read the Bible looking for loopholes but admired her literary tenacity. Hailey a voracious reader, a friend of Anna Cates was cut from the same cloth. The Smith River can be cruel at times with too much wind, too much cold, too much water or too little. Regardless, you've got get downstream setting up tents, cots, chopping wood and cooking meals. Our guides and clients count on the dependability, outdoor savvy and fortitude of our gear boaters. Hailey never let us down and made everyone around her better.  You've gotta love a gal that go row 12 miles downstream, work all day while quoting Ecclesiastes or Shakespeare with aplomb. Hailey started up Roscoe Outdoors designing their clothing. As guides, we were pretty fashionable while Haley was working.  Today, she is a midwife in Red Lodge, Montana, with her husband Zack and son Hank.
Katie Connors. When in doubt, men rely on muscle not necessarily coming up with the best of results.  Katie used brains over brawn and was a formidable gear boater.  She was a reader of the river deciphering the nuances of currents while navigating a ton of supplies downstream.  By the time Katie joined us, I had come to understand hiring people smarter than I was a key to success.  There was no question Katie had more IQ points than I do.  We just turned her lose letting her do her thing and we all benefited.  Today, she is an OB-GYN in Arizona with her husband and three children. Here something that Katie sent us when I was asking her for photos:
"Dear Mike, Here's a few pics I found from my Smith Days (and one of me with my daughter Molly here in AZ), wish I had more (guess I was too busy working my ass of to take pictures!!) Those summers were some of my most treasured memories. I love everything about that job, even the back rowing into wind at 250 cfs (cubic feet per second)! Thank you so much for giving me that job and keeping me while I tackled the gear-boating learning curve. It was some of the best time of my young life.  Take Care, Katie"
Mara Johnson.  Mara started doing dishes for us at Healing Water Lodge while she was in Twin Bridges high school. She is an athlete lettering in basketball, volleyball and track. Rowing a boat for 60 miles on the Smith was like doing warm ups for her. This will be her third year on the Smith River and fourth year at Healing Waters Lodge.  Twin Bridges is small town America where kids just naturally start working around town or on local ranches. There are really just two kinds of people living  here: those that work and those that don't. Mara is the former. This year she will be leading trips down the Smith right after she finishes her second year of college.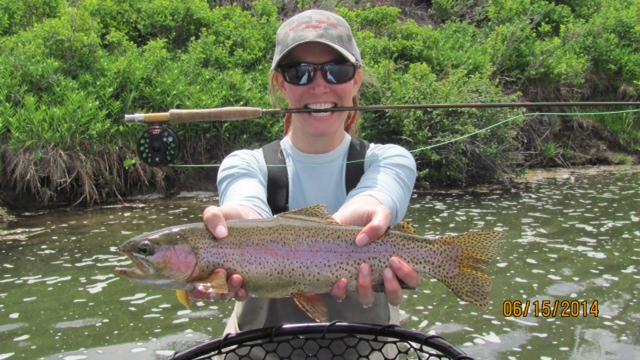 The next three women guide for us out of Healing Waters Lodge.  Guiding means putting miles and miles behind the oars learning the subtleties of the rivers we fish. It isn't any easy task having the Madison, Ruby, Beaverhead, Big Hole and Jefferson as part of your guiding resume.  Their guiding ability reflects time and miles spent on the water.
Kara Schuett. Kara's good nature and love of life make her in demand wherever she is rowing a boat. She can row from dawn to dusk and a smile never leaves her face. You can't be a good guide if you can't convey the love for fish and the places they live. Plus, trout tremble at her approach.
Anne McIntosh. Anne was introduced to us through her friend Kara Schuett. We asked Anne to guide one trip on the Smith River and two years later she was guiding over 100 days a year. She is an exceptional guide providing a natural warmth and patience. I am constantly leaning on Anne for more trips and help. She always responds with a smile and a "Yes."
All of the women that have worked for us came at us with so much heart, grit and courage. Courage to be themselves, the grit to be equals with anyone on the water and the heart to outdistance themselves from the ordinary.
TU Montana Ladies Fly Fishing:  
Written by Karen Bocz and H. Stewart Parker:
  "Last September, a small group of ladies gathered at Mike and Laura's for two days of fishing and camaraderie at the annual TU Montana Ladies Fly Fishing Weekend. This was the fourth year of coming together and our first at Healing Waters Lodge. We had great fishing, great guides, and loved the lodge and warm hospitality. On the last day, Patrick Byorth, Director of the Montana Water Project, gave a compelling presentation describing Trout Unlimited involvement in the Ruby Valley. With that, we vowed to return this year, expanding the group, trying to help spread the word about TU. Learning about the good work Trout Unlimited is doing for our rivers and streams giving us an appreciation of the fishery we are so lucky to enjoy. Restoring streams benefits flora, fauna and fish. TU's place-based, locally-driven and partnership approach to creative solutions has brought important change. It is fun and gratifying to see how this grass-roots approach, which sometimes seems small scale and incremental, has worked so well on projects we have witnessed on our yearly visits. We have gotten to know and have been impressed by the impassioned TU staff – Laura Ziemer, Senior Counsel and Water Policy Advisor; Lisa Pelly, Director of Washington Water Project, and Patrick Byorth. Their approach in organizing these trips, with fun and fishing as the focus, opened us up to learning and appreciating the work that they do. It also keeps us coming back year after year."
I might be a relic but the world is better place when you open up to the other half that live here.
Thank you for taking the time to read our newsletter.
Sincerely, Mike Geary