Peace and Good Will to All
Having made several attempts to write about something during the Holiday Season, I've run short each time.   The essence of the holidays for us is "Peace and Good Will to All." I can't come up with anything more succinct or more sincere.  Regardless of your race, creed or color "Peace and Good Will to All."

CHRISTMAS EVE 1944

An Unlikely Silent Night, as told by Keith Ginther

The story was told in 2011 by Keith Ginther of Montana, and was re-published on his death in July 2014 by The Great Falls Tribune:

Quiet, dependable, faithful rancher Keith Ginther died Sunday in Choteau. His passing brought to mind this story, which we featured Christmas 2011. I had known him for many years in a vague sort of way. He never had much to say. And then at Christmas one year, he suddenly started talking. He seemed shocked later by all he'd reveled [sic] but proud to have told his story, too. – Kristen Inbody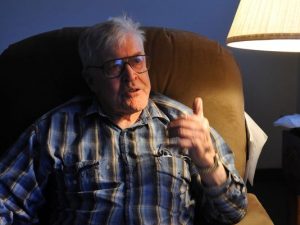 Here's an excerpt from his story (emphasis added):
In December 1944, Ginther became one of the 23,000 Americans captured or missing by the end of the Battle of the Bulge, Germany's final and ultimately unsuccessful offensive on the Western Front.
He began a 150-mile march into Germany 67 years ago this month. He remembers feeling humbled in defeat, even more so as the POWs met German artillery pulled by horses or one truck pulling another on its way to the front….
The column of POWs passed through a countryside devastated by war and damaged by Allied bombing. At one village, the POWs had to clear rubble so German artillery could pass through. An American bomber pilot joined the prisoner ranks.
"The people seemed to be more hostile to airmen, whom they blamed for being bombed" Ginther said.
Germans harassed the downed pilot. They'd rush the sides of the column, trying to grab him.
The villagers were starving, exhausted and angry.
When the hostility was at its worst, all the prisoners had reason to be afraid – though none so much as the captured bomber pilot.
Yet at that moment, an American in the ranks began singing "Silent Night."
"Pretty soon the Germans were singing "Silent Night" too, so it calmed things down," Ginther said. "Halfway through the first verse, you could hear the German words too."
If not for the song, which for one moment brought a measure of peace to a one small corner of Germany, "I don't really know what would have happened," he said. "The guards would have tried, I guess, to protect him."
I believe we are an aspirational people and I believe at the end of the day there is more that binds us together than divides us.
Sooner than later there will be another newsletter talking about fly fishing, our rivers, books, and all the things that make life more abundant and joyful.  But there is a time for everything under the sun and for the next few days it is giving thanks and wishing everyone the very best. Peace and Good Will to All.