Fly Fishing Predictions in 2020 and Beyond
We will have average to above average snowpack providing Montana's Rivers and Trout a healthy supply of water for 2020.
Here is this weeks forecast from a group called Arctic Oscillation and Polar Vortex Forecasts:
This week the predicted pattern across North American is troughing/negative pressure/geopotenial height anomalies with widespread normal to below normal temperatures across Alaska and Western Canada and the Western United States (US) with ridging/positive geopotential height anomalies and normal to above normal temperatures widespread in central and eastern North American.  However, the forecast is for a piece of the troughing/negative pressure/geopotential height anomalies and normal to below normal temperatures now in Alaska to spread into Eastern Canada and the Eastern US.
In Montana, we seem to be susceptible to "ridging/positive geopotential height anomalies", I don't know what these are and I am terrified.
I courageously interpret this to mean there will be gradual cooling to March 21, then a gradual warming until September 21.
Scientists discover a new gender naming them the "Somethings" when they go fishing, they use automatic reels. Go figure.
In 2020, we continue to add more private water for our customers. Our access to private water opens up a world of smaller creeks, streams, ponds and lakes. Solitude used to be an inherent virtue of fly fishing with the world leaning into 7.7 billion people, solitude on a trout stream
becomes even more treasured. We can get you on trout streams where it is just you, a fly rod and fish. This is something akin to going to heaven without dying.
The Beaverhead River produced some really big fish in 2019 and we are anticipating more big fish in 2020. The Beaverhead is a tailwater that historically has produced some of the largest trout in the state as well as the biggest fish per river mile. If you are in the mood for trout getting into the backing of your reel along with feeling adrenaline coursing through your being plan on the Beaverhead for 2020.
The Smith River continues to be the most coveted river in Montana to fish and float. The experience of floating the Smith for five days and camping for four nights is a siren song for everyone that dreams of fly fishing in a remote part of the planet. The Smith River is a tribute to everything beautiful about Montana. We have a few spaces left on the Smith for 2020 but if you are earnest about going down the Smith River this is the time to book for 2021. We are the largest outfitter on the Smith River with 26 of the 73 launches. The demand for launches on the Smith are a good indicator of the quality of a Smith River experience.
Humor will make a comeback in 2020. After too many years with too little humor people start to laugh again. My New Year's resolution is to read more Mark Twain. I think he understood the American temperament better than anyone.
"Politicians and diapers must be changed often, and for same reason."
And
"The more I learn about people the more I like my dog."
Excellent fly fisherman/photographer, Tony R.
The Big Hole River defines western fishing for us. The river gushes past canyon walls slip sliding through the mountain meadows supporting trout at every bend. For the angler you have opportunities to catch brook trout, rainbows, brown trout, cutthroat and arctic grayling. The river summons up caddis flies in May, Salmon Flies in June, PMD's in July, Tricos and Spruce Moths in August, Hoppers in September and October Caddis in October. There isn't a bad time to fish the Big Hole. Our guides at Healing Waters Lodge feel that for big trout April is the month. The following is my bastardization of Melville's Moby Dick:
Whenever I find myself growing grim about the mouth; whenever it is a damp, drizzly November in my soul; whenever I find myself involuntarily pausing before coffin warehouses, and bringing up the rear of every funeral I meet; and especially whenever my hypos get such an upper hand of me, that it requires a strong moral principle to prevent me from deliberately stepping into the street, and methodically knocking people's hats off – then, I account it high time to get to the Big Hole in Montana and start fishing as soon as I can.
The year is 2030 and Donald Trump enters St. Anthony's Coptic Monastery in the eastern desert of Egypt.  The Donald has taken a vow of silence leaving his Twitter account behind.  Aides report that he did bring a sand wedge with him to pass the time.
Ruby River Last year was the best year we had on the Ruby River for big trout.
The fish were exceptional.  The Ruby is a small stream and we are fortunate enough to access through some of the private water we lease along with some other creative methods allowing to fly under the fishing radar.
I think it is a perfect trout stream.  Hopefully, the photos do justice to the river.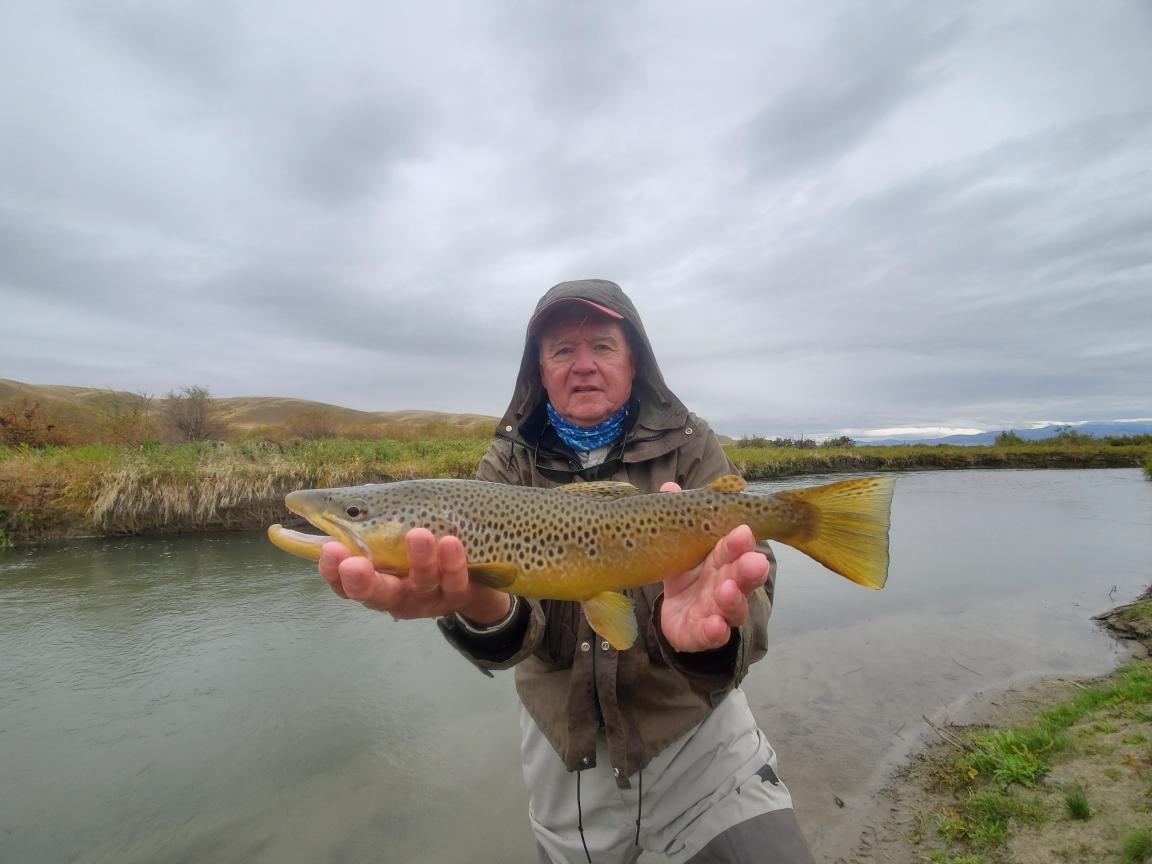 Our 
Orvis reviews
 are exceedingly important to us.  We encourage our guests to click on the link and let us know how we did.  We take your input seriously and appreciate your input.
Each year, I become more like Arthur Miller's character, Willy Loman, from Death of a Salesman. On January 1, I hit the road armed with fishing brochures and the hopes and dreams of child pursing customers. I would love to see you and I also make house calls. I am still motivated by fear, desperation and paranoia, which seems to work remarkably well. Here is our itinerary:
January 3,4 and 5: Denver Fly Show at the Denver Mart, 451 E. 58th Avenue, Denver.
January 11 at noon: Sportmen's Finest, 1234 Bee Caves Rd, Austin, Texas. Phone: 512-263-1888
January 14 from 5:30-7:30: Orvis The Woodlands, 9595 Six Pines Dr, The Woodlands, Texas. Phone: 281-203-6150
January 16 from 5:30-7:30: Orvis Houston, 5727 Westheimer Rd, Houston, Texas. Phone 713-783-2111
January 18 from 10-6: Orvis Baton Rouge, 7601 Bluebonnet Blvd, Baton Rouge, Louisiana. Phone: 225-757-7286
My last prediction: In 2020, Montana is still the last best place.
Thank you for taking the time to read our newsletter.
Sincerely, Mike Geary