An Ode to Housekeepers and Fly Fishing Guides
Healing Waters Lodge is honored to be a finalist for the 2020 Orvis Fly Fishing Lodge of the Year award. Being nominated two years in a row is really a tribute to all the people that are committed to making Healing Waters Lodge a special place in southwest Montana. We are the sum of many parts at Healing Waters Lodge which all begins with our customers, guides, and hospitality staff.
Our housekeepers are the ones that are closest to our hearts.  They have all of our affection, admiration and respect. Housekeepers working behind the scene have one of the most crucial jobs at Healing Waters Lodge.  Their attention to detail and the pride taken in their work sets the tone for everything we do here on behalf of our guests. I should have Fanfare to the Common Man by Aaron Copeland blaring in tribute to them.
Some of our hospitality staff include: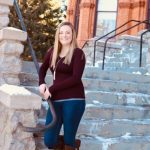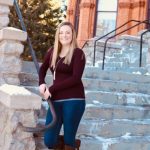 Rachel Harris: Rachel has been working at Healing Waters Lodge for the past five years.  She graduates from University of Montana Western in May with a degree in English and very little student debt.  She put herself through school working at Healing Waters Lodge along with other jobs in Dillon. I first noticed Rachel, running from the laundry room to a guest room to get something done.  Running or in the parlance of a fishing guide – hauling ass. I thought, this is someone special and she is. She is American success story and we proud and honored to have her at the lodge for one more season.
If you can successfully clean a guest's room you can do anything. To clean someone's bathroom, make their bed, tidy up their odds and ends, taking pride in your endeavor when no in looking, the world becomes your oyster.  This says so much about their character and hopefully the character of our lodge. It all begins and ends in Housekeeping.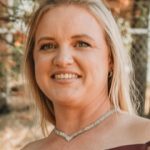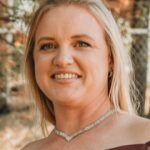 Melissa: Melissa looks at dirt, filth and disorder as a personal insult to her existence. Melissa's interior battle is to eradicate muck, slime, sludge, mud and grime from the universe. She finds filth morally degrading, contemptible and an affront to her family and God. These are highly laudable virtues for us at Healing Waters Lodge. We are ecstatic to unleash Melissa and her fury on the rooms and grounds at Healing Waters Lodge.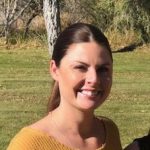 Lindsey: Thorton Wilder used the town, Grover's Corner, to represent life in America. It might have been a different story if he would have used Lindsey's home town of Elk City, Oklahoma. This is Comanche Country where there is fire and fury in the land along with the people inhabiting it. The energy Lindsey brings to Healing Waters Lodge showed up the day she said, "Hello." She's an indefatigable worker, smart as a whip and to quote poet Pablo Neruda, "has a smile that spreads across her face like butterfly wings." She works as the morning chef twice a week, in housekeeping, as a server, a shuttle driver and helps with the flower gardens. Lindsey makes everyone around her better.
FOUR SPACES LEFT FOR OUR FLY FISHING SCHOOL APRIL 26 – MAY 1. SIX NIGHTS AND FIVE DAYS OF FISHING BLISS AND PISCATORIAL INTELLECTUAL EXERCISES FOR $3350.
Guides:  To paraphrase the comedian Lewis Black, "these are my special snowflakes individual and special in their own way."  Being an outfitter for over 30 years, my line about myself as a guide is, "I have taken over 3,000 people fishing and no one yet has accused me of guiding them."  Thank God, I have hired my betters.  However, with 30 years as an outfitter I have some ideas on what is a good guide, an average guide, and a bad guide.
Bad guides are easy to distinguish they will have empty beer cans in the back seat or in the bed of their pickups or they might have a full beer going in the cup holder when they come to pick you up the morning.  They have tendency towards divorce, bill collectors and old pick ups. They might know where put-ins and take-outs are on a river but they also know where Happy Hour is seven days a week. They like listening to Willie and Waylon and maybe Metallica.  The boats are never new and you should always check to see if there are plugs in the boat before it enters in the water. While luck might be the residue of design bad luck certainly is.
Average guides are harder to figure.  They are decent, hardworking, affable and knowledgeable. They bat .225 a season can get you into extra bases and once in a while hit a home run.  Average is just what it is – average. Healing Waters Lodge strives to be exceptional.
Great Guides for us, begins and ends with character. The best guides we have go home at the end of the day to be with their wives and families.  They pay the bills, clean their boats, play with their kids and pay their taxes.  A great guide has patience coupled with the desire to make every angler better.  All of our guides are gifted instructors with the patience and tact to get people into fish. Plus, they all like to fish.  Our goal is to have the highest paid and most experienced guides in our area.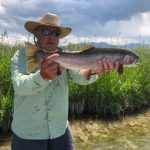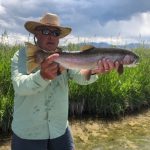 Butch Wicks: Former Middle Linebacker at Oregon State, former high school teacher and coach along with being a long time Healing Waters Lodge guide.  Butch is the Dean of our Fishing Schools in April and May then settles into guiding the Beaverhead and Big Hole along with hidden lakes, streams and ponds in the Beaverhead and Ruby valleys.  Butch is a gentleman, a guiding virtuoso and defines character.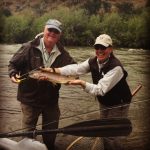 Cassandra Osborne: Cassandra is our most requested guide.  I remember her returning some novice anglers back to the lodge early after an unusually windy day on the water.  No wind at the lodge, so instead of calling quits and going home, Cassandra spent the rest of the afternoon giving a casting class to her clients, improving their skills for the next day of fishing. She goes the extra mile for each of her clients.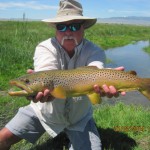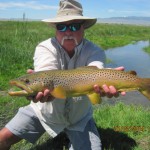 Bart Doig: Bart can make Marcel Marceau and Buster Keaton appear loquacious.  A guiding minimalist there is no ambiguity that Bart Doig knows the water he fishes.  Bart has a true-life passion and experience for the hundreds of miles of river he guides every year for us.  For the customers that have leaned in and listened to Bart they come away as disciples of an accomplished professional guide.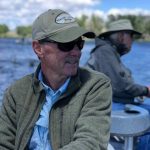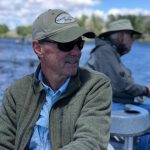 Terry Throckmorton: A friend of mine just received his outfitters license.  His number is 40,378 which means there have been 40,377 outfitters before him.  Terry's license is 417. He has literally forgotten more than most outfitters and guides will ever know. Terry and his family have been in the Beaverhead and Upper Red Rock as homesteaders, ranchers and dreamers for over a century. The intimacy, love, compassion and faith Terry has for Montana and his home waters is tangible. Terry is a true interpreter of the rivers, streams and dreams that anglers seek.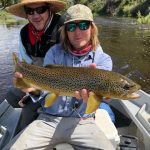 TJ Migneault (aka Fish Whisperer): I think the idea a fish whisperer is a hackneyed phrase, but TJ truly has a special ability as a guide in finding fish. More importantly, he is a natural instructor dispensing information and suggestions with encouragement, kindness and confidence. We have several guests that become fishing acolytes in the TJ Migneault school of Trout.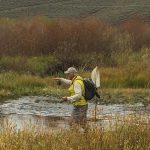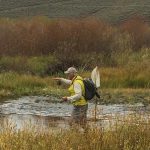 Tim Flynn: Optimism, hope and faith are all inherent in Tim's being. I think he is the avatar of Jimmy Stewart's character Jefferson Smith in the movie, Mr. Smith Goes to Washington. Tim embraces Mr. Smith's maxim of "only the lost causes are worth fighting for." This unbridled hope and optimism Tim delivers every day to guiding. Your best cast, your biggest fish are just around the bend with Tim.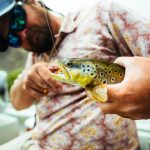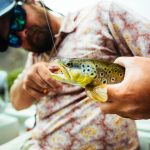 Eli McIntosh: Me, "Eli, can you take two to the Beaverhead tomorrow?"
"You bet," he will reply.  "Eli how about doing the Big Hole."  "I love the Big Hole," he will say.  "Can you do Varney to Town tomorrow on the Madison??  "I live for the Madison.  "Mr. McIntosh are you comfortable taking someone on the Jefferson."  "I own the Jefferson."  I love Eli and his ability to go anytime anywhere in the pursuit of trout.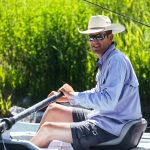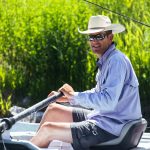 Scott Allison: if Gary Cooper was going to play a Montana fishing guide he would be looking to Scott. Long, lanky and laconic, Scott offers everyone a calm confidence where ever he is guiding. He gives every client 100% effort every time he touches the oars. He conveys his knowledge of the river with assurance based on earned wisdom on the water and a lifetime of angling.
Water is natures paint
It creates life
It frees beauty
It is the heart of creativity, thought and strength in Humankind
Without it, the world would be reduced to a blank canvas.
We want to be the best.